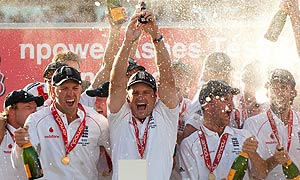 When England won the Ashes 4 years ago it seemed like an amazing achievement after so many years of disappointment (OK then, humiliation), but doing it for the second time doesn't seem quite so exciting.
Maybe it's because it has seemed like a contest between the teams ranked 4th and 5th in the world (which is how they stand after this series). Of course, it's always good to beat Australia at any sport, but don't they normally put up a better fight than this?
Or is it because things could have turned out very differently.
Australia could easily have won the first test, and how might that have changed things?
England's margin of victory in the Oval test match was rather flattering, and it was really decided by Australia's batting collapse on Friday afternoon and their poor bowling in England's second innings.
What might have happened if the England selectors hadn't taken the inspired (as it turned out) decision to replace Bopara with Trott. And, yes there were some very dodgy umpiring decisions.
Or is it just that I have missed out on the live TV coverage and all the media hype in England?
Gotta love the Google contextual advertising. Ashes, you see.